Home
Click here to get all the details on our annual car show and see pictures from the past events !!!!!!!
---
CAUTION !!!
Watch out for "steering"!
Know Your Rights

This is a common practice among some insurance companies. They they give you the impression that going to one of their "preferred" shops is better for you. They may say "We can insure their work" or "An adjustor won't have to come look at your car" or "These are the shops we recommend". It simply means the shop(s) has a contract with that insurance company, and the insurance company saves money. Come to Body Worx; we work for you. We insure our work to you, for as long as you own the vehicle. We will handle all insurance negotiations for you. We don't contract with any insurance companies.
The law states you have the right to choose your shop.
 Call 405-282-5014
Why choose us?
Lifetime warranty.* (see details below)

Quality work at a fair price.

Free Wi-Fi.

Complimentary coffee, tea, hot chocolate, sodas, and water.

After hours covered key drop box and parking.

Inside storage, if necessary.

Comfortable waiting area with flat screen TV.

Authorized distributor of Ranch Hand front ends, bumpers and grills.

Authorized distributor of Katzkin Interiors.

We accept Visa, MasterCard, Discover, PayPal Cards, personal check, insurance checks, and we still accept cash.

We will work with all insurance companies on your behalf.

All makes and models, foreign and domestic.

Quality work at a fair price (definately worth mentioning twice).

Member of the Guthrie Chamber of Commerce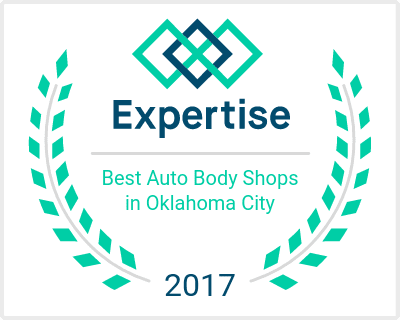 Want to leave a review?
Connect with us!
Call 405-282-5014
2319 S. Division St. in Guthrie, Oklahoma
* We guarantee the paint will not peel or fade and we guarantee the labor performed, for as long as you own the car.